Consumer perspectives on customized packaging vary. One study found that 72% of people are concerned that box design has a big impact on their buying choices.
Modern technology and cutting-edge materials have revolutionized small business packaging in recent years. Simple, useful packaging is becoming a thing of the past. To help differentiate their products from those of their rivals, brands are implementing new and distinctive packaging designs.
Packaging is significant to consumers because it enhances the overall product experience.
Clear Path Packaging Introduce Classic Technique to Design Affordable Packaging for Small Businesses
At Clear Path Packaging, we give our customers the best unboxing experience possible. Packaging is always consistent with the brand, making it simple for customers to recognize. Layers of packing, whether they are soft dust bags for shoes or eyewear or empty fillers like tissue paper, signify a high-end item. When premium packaging is used, customers feel as though they have something exceptional when they open a package.
But keep in mind that just as crucial as how your product is presented is how it is protected and preserved. Secure packaging will improve your brand, extend shelf life, reduce spoiling, guard against damage, and increase shelf life.
To stand out, your small business needs that boost. With the help of these small business packaging suggestions, keep your products elegantly packed in cardboard boxes.
Packaging Options for Small Businesses
Ideas for small-business packaging typically fall into one of these groups:
• Boxes
• Wraps
• Bags
• Pouches
These packaging suggestions for small businesses don't have to be simple and uninteresting, though! You can devise strategies to strengthen your brand and make your clients happy when they acquire your products.
Let Discuss 20 Ideas of Packaging for Small Businesses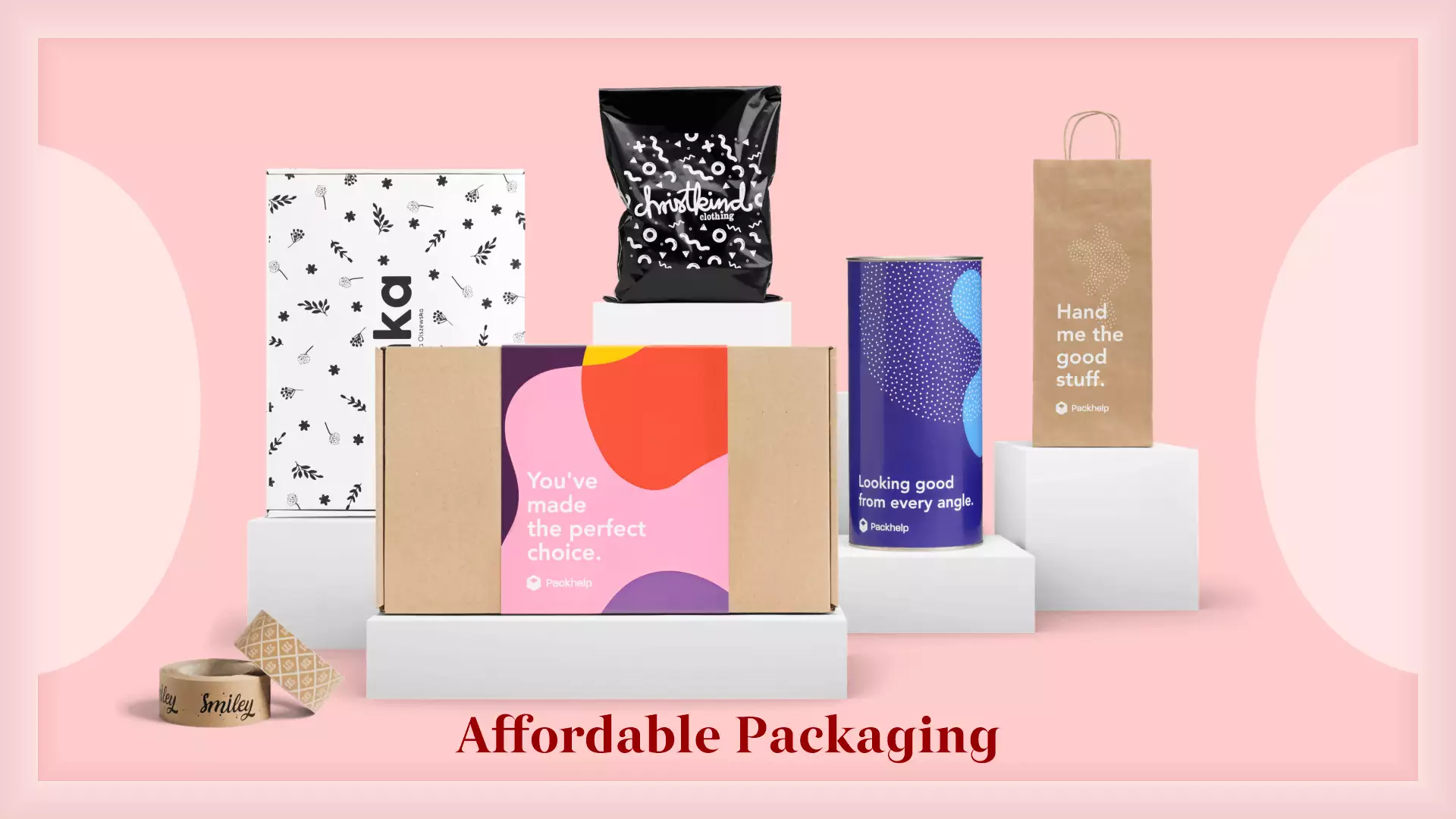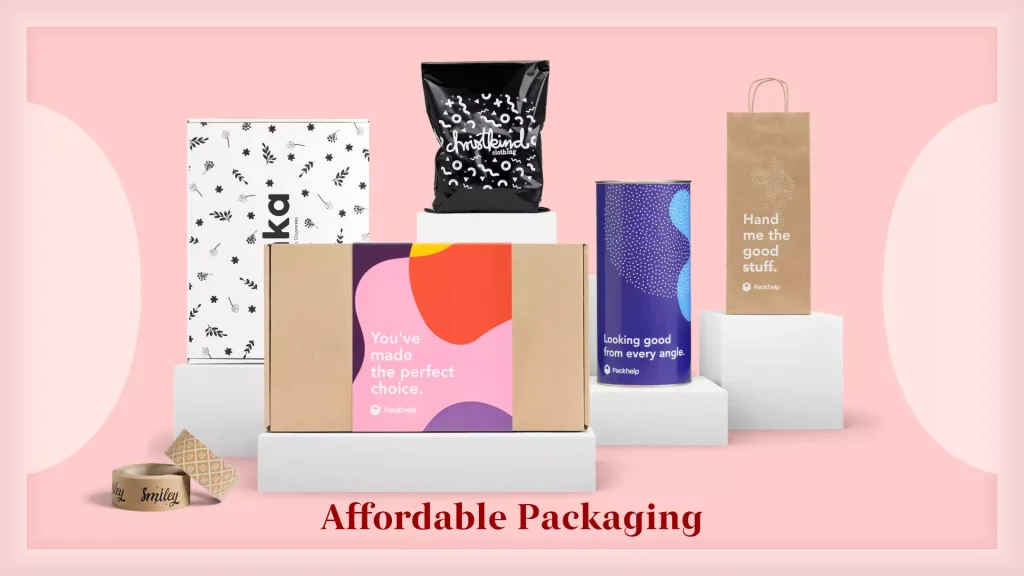 Shipping boxes with custom printing
You may be one of many proprietors of small businesses who are hesitant to choose a personalized shipping box.
It is more likely that a client will choose to purchase the product in the printed box if they are presented with two similar products, one in a plain box and the other in a printed box. Custom-printed packaging so directly affects the number of sales.
You don't need to spend a fortune to make your products stand out. A few businesses sell personalized shipping boxes in smaller quantities and at lower costs.
Wraps with Personalized Prints
Using branded paper wraps, your sandwiches, pita wraps, apparel, and fashion accessories will look more appealing. Wraps are a fantastic method to customize small business merchandise in addition to raising brand awareness.
You could, for instance, wrap a scarf with personalized tissue paper that features your logo and other prints. For some flair, you could also add some twine and stickers.
If you own a small business that sells gifts, you might also think about utilizing personalized paper wrapping to ensure customers remember you.
Customizable Paper Bags
Shopping bags with graphics are useful for more than just boosting brand recognition. Customers can reuse your bespoke paper bags however they choose if they are high-quality and aesthetically acceptable.
To add a personal touch to your paper bag, add different things like wraps. To create a more opulent appearance and feel, use soft tissue paper. For a cuter appearance, add bows, hangtags, and inserts.
Identified Pouches
Sealed pouches are ideal if you're selling culinary goods that require safe packing to stay fresh. These pouches can be used for powder or liquid items.
Small flat pouches work well for packaging sample-sized items, while upright pouches are fantastic for exhibiting your products on shelves or tabletops.
These pouches, especially the resalable ones, can be used as storage bags as well. By adding some lovely prints and designs to your product pouches, you can persuade customers to keep and reuse them.
Boxes with Distinctive Shapes and Wrapped Art
Even though costly firms typically reserve weirdly shaped packaging for luxury goods, you can still use distinctive shapes for your small business' packaging. Hexagonal boxes are a good option because they are just as simple to stack and display as ordinary boxes.
If you'd rather keep with standard packaging shapes, choose wrapped prints. If you're selling pet treats, you can print a cat silhouette with its tail extending to the opposite side of the box on the product box.
Die Cuts Boxes Design
Die-cut branded packaging is a great choice because it's adorable and original. A bigger portion of your product can be displayed using this packaging design without exposing it to the weather.
Your products look fantastic when packaged in die-cut boxes and pouches for retail shelves. Who wouldn't notice a box of cookies in a mouth that was open wide?
Theme Package Design
If your small business relies on subscriptions, themed packaging is ideal. Additionally, it works well for selling gift sets for occasions and holidays or giving product samples.
Themed packaging can dramatically increase branding and consumer happiness despite the cost. Carefully designed theme boxes can also entice customers to record an unboxing video, which results in free brand marketing.
Individual Flat Mailers
Small businesses that sell stationery or artwork should use flat mailers. This kind of commercial packaging provides more than just increased security. To make it more memorable for your customer, you can also include details.
It can be printed with some of your artistic creations. Customers may be eager to get your stuff in the mail because of your personal touch.
Custom Paper Wraps
Who says plain, straightforward protective packaging for commodities used in small businesses? Handpainted wraps can be made if you have some craft paper packaging, paint, and a lot of imagination. Handpainted paper wraps are an eco-friendly packaging for your small business because your clients may reuse them as gift wrapping.
Pocket-Friendly Packaging
Do you enjoy folding paper? Use your folding prowess to your advantage! A great approach to packaging products for small businesses and improving the consumer experience is pocket packaging.
Put a thank-you card, a business card, or some dried flowers inside the front pockets created by folding craft paper around your merchandise. Use tape, twine, or one of your brand stickers to secure the wrapper.
Instead of craft paper, you may use environmentally friendly packaging materials like recycled paper or old newspapers and magazines.
Easy Canvas Bags to Make
Here is a quick fix comparable to the paper treat bags used for culinary goods. Consider using canvas drawstring bags to store your goods. Using a unique stamp, you may imprint your brand's emblem onto the bag to make your package stand out. The fact that your clients can reuse the bags is fantastic!
Paper and Botanicals for Crafts
With plain craft paper and twine, you can never go wrong! As a simple but adorable touch, you can embellish your present with little dried flower pieces.
Colorful Small Mailers
These smaller poly envelopes are ideal if you have few products. They come in various colors, including white, blue, pink, purple, and teal.
Adorable Holiday Packaging
You can alter your packing to fit the occasion if you sell goods all year round. The product has a wintery/Christmas feel thanks to the bespoke packaging paper's straightforward snowflake designs.
Tissue Paper and Inner Packaging
Wrapping particular things inside your packages is one more small company packaging concept you can employ to enhance your packaging and add customization to promote your brand. This will demonstrate to your clients that you value their business and that your products are worthwhile.
Elegant Flat Mailers
Showcase a basic rendition of your artwork on personalized envelopes if you own a stationery or art business! When your clients receive their orders in the mail, they will undoubtedly be delighted.
Recycle Paper
If vintage stationery is your aesthetic, use unusual papers to package your goods. Belly bands can be made from old book page scraps to hold the product. It enhances the retro vibe and is a fantastic recycling idea!
Use of Gift Wrap
Like the concept of having personalized packaging for your small business, but the cost isn't now within your means? Making it yourself is an easy solution! With paint splatters and strokes, you may design your personalized wrapping!
Personalized Care Instruction
Care instructions can be relatively brief or go above and above by tying in with the overall packaging design. Small nuances enhance your packing and demonstrate your concern for your goods.
Add Logo Stickers or Tags
A fantastic small company packaging tip to add a personal touch without going overboard is to add a customized branding sticker or tag to your package. Usually, you'll find personalized tags on products like clothing, cheap souvenirs, and even the outside of boxes.
Wrapping up
A significant error made by small business owners is not giving packaging and product display enough care. Pick at least one small company packaging suggestion from my list to enhance your packaging immediately.
Are you considering launching a business using one of the above concepts? Consult Clear Path Packaging today.