Packaging has a significant role in the success of a company's marketing efforts. The packaging is almost more valuable in certain categories to sell the actual item. Jewelry is an example of a luxury item. Promotional custom jewelry boxes are a great way to showcase your collections. It's a useful medium for promoting your
Company's name
Brand logo
Product Quality
Customer service information
Indeed, jewelry boxes provide a professional touch to your jewels and boost sales. At the same time, this raises awareness of the brand. Custom packaging targets for the social elite should convey class and sophistication. These should have elegant patterns and prestigious brands. For instance, if you want to sell your product to adolescents, you might create an attractive and interesting package design.
How Do You Design Your Jewelry Boxes?
Therefore, applying your imagination and creativity to design attention-grabbing jewelry packaging is totally up to you. When you have the best packaging that will astound your target market and promote the brand.
The capacity to design unique, high-quality boxes for displaying and shipping jewels is made possible by custom packaging. The specialized boxes come in various shapes, sizes, and designs by manufacturers. They make these to the buyer's exact specifications. Why do we consider jewelry boxes?
It usually boosts sales
Grab customer's attention
Save from potential harm
Best for giving gifts
What Are The Type of Jewelry Boxes?
Here are the following type most prominent type of custom luxury jewelry boxes:
Cardboard or Paper Boxes
Paper and custom cardboard jewelry boxes are typically used for one-off pieces. Since their primary purpose is to protect jewelry before it is given as a present. However these are not a good choice for the long-term preservation of one's jewelry collection. 
Valet Boxes
Essentially the male equivalent of a jewelry box, valet trays store small personal items. As a result of the lack of options for men's jewelry, valet boxes are now used to store more than only watches, cufflinks, rings, and other small accessories like keys, writing implements, memory cards, USB drives, and even spare coins.
Jewelry Roll 
When opened, jewelry rolls made of cloth or leather lie flat, making them ideal for storing and transporting jewelry. They may or may not contain a plethora of compartments in which to keep your jewels, depending on their size safely.
Jewelry Travel Cases
Jewelry travel cases may seem old-fashion, but they are still convenient for transporting your valuables from place to place. Depending on your need to transport, there is a wide range of custom jewelry shipping boxes to choose from.
Tips for choosing a jewelry box
You need classic packaging if you want to save your jewelry that delivers long-lasting results. The more you care, the more you get benefits. Meanwhile, this is the only factor that a person desire to have custom printed jewelry boxes. In short, it's crucial to pick a quality jewelry box.
We agree that you should wear your gold and expensive jewelry as frequently as possible. Rather than saving it for only the most special of occasions. Most people choose a jewelry box for its aesthetic value alone, but functionality should also be a consideration. They should have a dual purpose, complementing your jewelry while keeping it safe. Keeping that in mind, there are 5 basic guidelines for selecting a jewelry box:
Consider its Material:
Find a jewelry box constructed from superior materials like wood, leather, or cardboard. Using it correctly, you may protect jewelry against moisture and poor insulation. Some of the most exquisite and elaborate custom jewelry boxes with foam inserts made up of cardboard, which is also quite sturdy.
Furthermore, you may store your Jewelry in a wooden box. Of course, the price will go up because higher-quality materials are more labor-intensive and rare. Make sure you choose the right material.
Observe the layout: 
Designing a jewelry box is a balancing act between the owner's tastes and the artist's vision. Keeping these two factors in mind, a skilled designer of jewelry boxes may produce a work of art that will never fail to captivate the viewer. Jewelry box designers can choose from a wide variety of options, including:
Vintage,
Victorian,
Contemporary
Wood
 Wood is an excellent material for the boxes because it protects the jewelry and acts as a moisture barrier. An alternative to wooden jewelry boxes is acrylic. However, they are available in a wide range of sizes. Also, it seems like the greatest choice for long-term storage because of their lovely appearance, making them ideal for giving as gifts.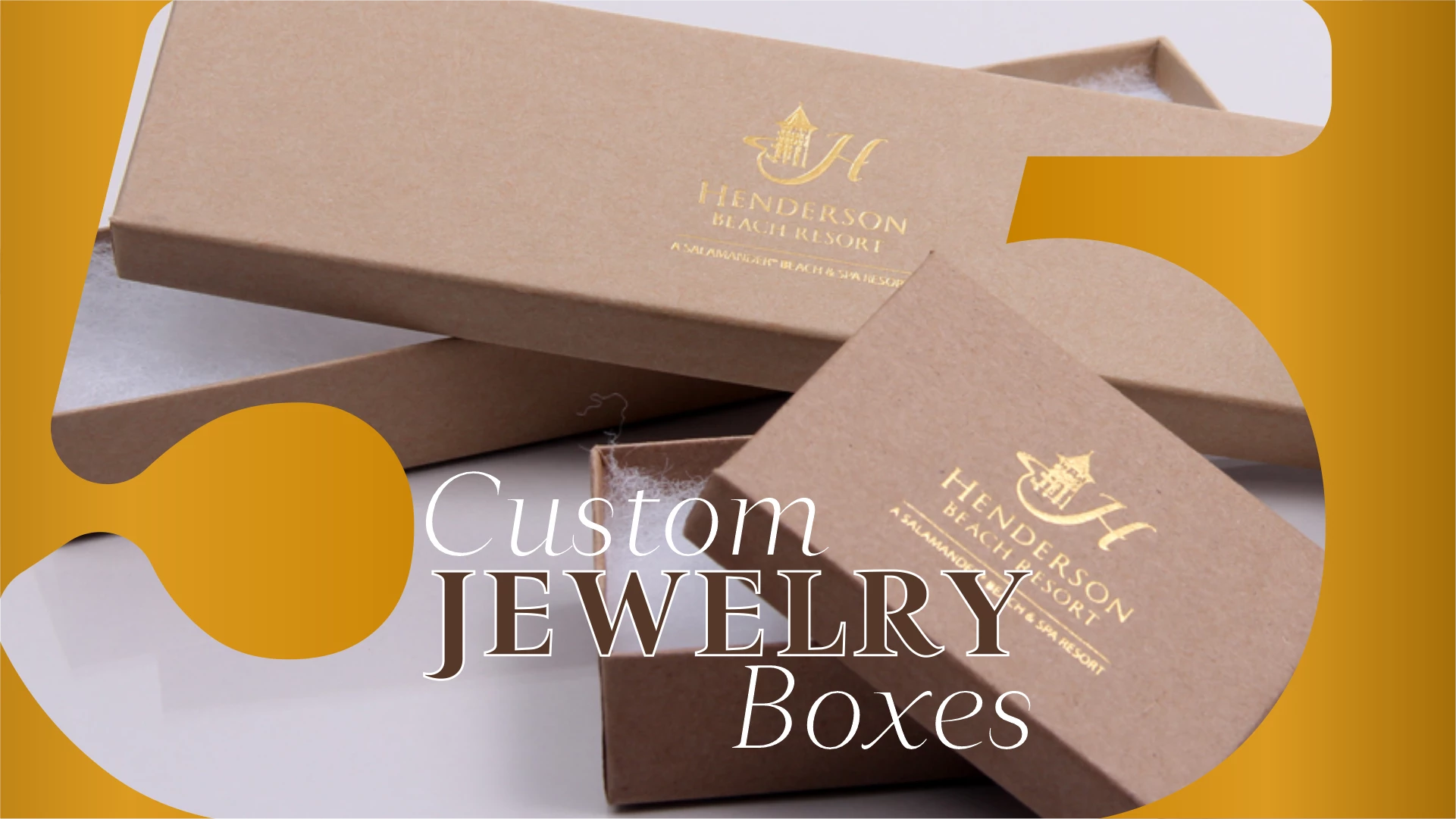 Choose the target market
In the first place, who is the lucky recipient of this beautiful jewelry box? A mature human being? A member of the family or a close friend? Light or melodic jewelry boxes seem perfect for your needs. They are colorful, adorable, and appealing. Rectangular gift boxes with black foam and trays are attractive and well-suited for delicate bracelet jewelry. Single-piece jewelry boxes usually come in a rectangle or square design.
Measurement: 
Make sure you can design your custom cardboard jewelry boxes according to complete measurements. There is a jewelry box in each size and form imaginable to accommodate any collection of jewels. Whether you have a little group of valuables or a large hoard of priceless artifacts, choices can be made. Organizing for the future is something to think about. After all, a jewelry box should serve you for many years if it's good quality.
Compartments:
The requirement for a jewelry box with various slots depends on the kind of jewelry you own. A jewelry box with several separate sections and hooks is ideal if you own different jewelry pieces (bracelets, rings, earrings, necklaces, etc.) The quantity and diversity of compartments may not be as crucial if your collection is tiny or if you have many of the same jewelry.
The best jewelry boxes include separate sections for each type of jewelry so that every jewelry item may be stored in a portion designed specifically for it. One option is to construct a series of drawers with hooks inside each one to secure the jewels.
Also read: Custom Printed Soap Boxes Provide Unique and Innovative Packaging
Things to Know About the Jewelry Boxes
Jewelry in the current day serves as more than just a decorative accent. Even more than that, it's a tool for broadcasting your style to the globe. Meanwhile, jewelry is a popular accessory, so you must need the best quality custom jewelry shipping boxes. Instead, they would look at the product presentation before making a purchase. Undoubtedly, jewelry has a high market value.
 Therefore, they should be packaged in the most secure method possible. The custom cardboard jewelry boxes are constructed from long-lasting materials. Also, it will keep your product safe through the roughest transportation conditions.
Packaging your jewelry evokes emotion and imparts knowledge to your customers.
It makes no difference if your jewelry brand is an offline establishment or an online one.
Customers won't have a positive impression of your jewelry if it's poorly packed.
In short, you have to invest in custom jewelry boxes with foam inserts, if you want to delight your customers.
Jewelry Boxes Made to Order
You can have a fun and exciting unboxing experience with custom jewelry packaging. Now is the time to think about how you want your jewelry to be presented in its custom-printed package. Customers need the ritual of unboxing exquisite packaging to feel like they belong to your target audience.
Meanwhile, jewelry packaging may have an unconscious effect on your brand's perception. This would provide a consistent appearance that would be easy for buyers to make out when giving your package some serious attention.
Conclusion
Finding the right jewelry box is a fun part of jewelry ownership and essential to keeping your jewelry in pristine condition.  Think carefully about what you want and how to get it. A stunning display case for your priceless jewels will be the icing for all your hard work.
At Clear Path Packaging, you may get jewelry boxes at wholesale price. We offer cardboard, Kraft and paper jewelry boxes through Incorporate artistic branding elements like logos, graphics, and slogans.