You shall avoid going for ways of packaging that are harmful for our planet earth. The time is going by quickly, and in this case, the best time to start is today. You shall start choosing biodegradable soap packaging instead of plastic and other harmful components. As a manufacturer or wholesaler, how you package your product may have a big effect on how well it does.
Even if you only have a few options, customers who buy your product will have less of an effect on the environment. Personal care items have a shorter shelf life and need to be replaced more often. On average, a bar of soap has a life cycle of about one month. There is a lot of waste that could happen. Because of this, even if you only reach a small number of people, you can make a big difference.
Also, the fact that more and more people are worried about the environment may even lead to more sales. A large number of shoppers are especially interested in buying items and packaging that are good for the environment. On this page, you will find all of the information you need about how biodegradable soap is packaged.
Package In A Way That Is Kind To The Environment
The biggest problem is that soap packaging is almost always made to be used only once. After you've gotten the item, you'll throw away the package. The fact that packaging isn't recycled adds a lot of stress to shopping, even though it seems like a simple thing to do.
The good news is that there are ways to deal with it. Read on to find out about some soap boxes that are good for the environment. There are a lot of different ways to package soap that breaks down. Still, if you think about the whole process from start to finish, you can see that not all of the results are good. Think about plastics that can break down in nature. In theory, it might be possible to compost it. The problem is that before things can be recycled, they have to be worked on in an industrial facility.
On the other hand, since kraft paper breaks down on its own, it is a much faster and easier way to make environmentally friendly soap boxes. If you know what steps your product will go through, you can choose the best way to pack it.
The biodegradable soap packaging has to be the new mode to package your soaps. Solid soap is by a long shot the most eco-friendly choice. One option is to make and package it in a sustainable way. In the past few years, shampoo, lotion, and detergent makers have all started making solid versions of their products.
Here are some options for soap packaging ideas  that are good for the environment!
Switch To Kraft Paper To Have The Best Biodegradable Soap Packaging
There are many ways to package soap that breaks down over time. But if you think about the whole thing, from start to finish, you'll see that not every result is perfect. The Kraft paper we use today was made in large part from recycled paper products that people had already used. It can be completely broken down by nature. Paper is a great choice for the packaging of eco-friendly soap because it is cheap, strong, and doesn't harm the environment.
Kraft paper is made from paper made from whole wood pulp. The color of the finished product will depend on whether or not the paper has been bleached. In the bleaching process of today, chlorine dioxide, oxygen, and peroxide are used. These won't change anything about how the area works as a whole.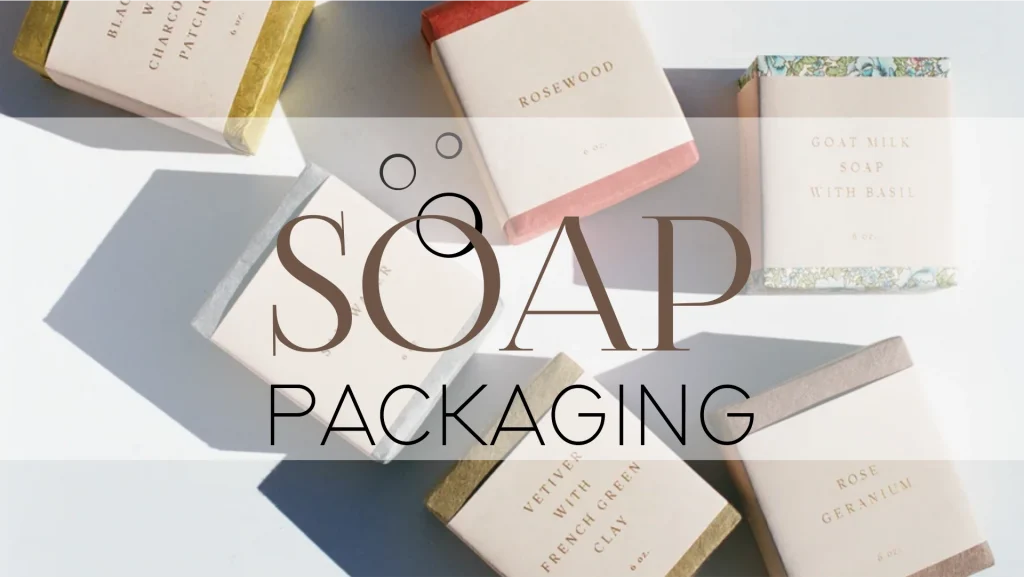 Use Molded Pulp To Design Your Boxes
Biodegradable soap packaging can also be made from molded pulp, which is a great choice of material. Paper fibers, either new or recycled, are used in the process of making these eco-friendly soap boxes. The boxes are great for packing food and large items like home appliances because they are harder to tear and can handle high temperatures.
Molded pulp boxes come in all colors and shapes of the rainbow. Because they can hold more weight, they are a great choice for soap sets.
As was already said, the box for an eco-friendly bar of soap doesn't have to be boring. You can make your eco-friendly soap more personal by decorating the paper that it comes in. You will have a lot of options that work well with how you present your business and how you plan to market it.
Make The Soaps Look Simple And Easy To Use
About sixty years ago, a style called "minimalism" came into being, and it's not going away any time soon. This style shows the theme of caring for the environment very well. "Less is more" applies not only to the way the product looks, but also to what it is made of.
Products that have a short list of natural ingredients and are packaged in a way that is good for the environment tend to do well in the market.
Be Absolutely Simplistic With Your Design
To get a minimalist look, you need to get rid of everything that isn't absolutely necessary. Your packaging for biodegradable soap should have a simple design with only a few important parts and a lot of empty space. Because of the empty space, the focus will be on the pieces that you choose. To reach the goal of your minimalist design, use the colors that resonate simplicity. You can accomplish having simple designs on your soap packaging if you care enough for your environment. Avoid using any raw materials that might violate the safety of your environment.
Make Sure Your Biodegradable Soap Packaging Is Worth It
Even though the design would be as simple as possible, customers must be able to find the information they need quickly and easily.
Whether you write the ingredients and identifying features of the brand right on the box or print them on a label, the most important information should be easy to read at a glance. Set up a ranking system for the information and put the most important facts about the biodegradable soap on the front of the package.
Use as few materials as possible to cut down on how much you have to pack. Using less packaging for soaps that are good for the environment also helps save materials. It is very common to find companies that have done away with all unnecessary packaging.
It's not a bad idea to get rid of the box and fancy paper and just keep the kraft paper band around the soap. This could change, of course, depending on the type of soap you sell and how it needs to be stored, but it's not a bad idea at all. If you want this to work, you need to think about where the product will go or how it will be shown.
Include Visual Elements From Nature On Your Boxes
A natural design also uses things that are common in nature, in addition to the colors and atmosphere. You can try out different designs for the packaging of your eco-friendly soap. For example, you could use patterns that look like flowers, mountains, or waves. Use of photographs is another way to bring in things from nature.
You can emboss pictures onto the packaging for your biodegradable soap if you want to give it a special look. Custom soap boxes that are good for the environment will literally stand out from the rest. Since a company's logo is such an important part of how it looks, it's important that it be made with a natural look in mind.
Go vintage or modern when designing your boxes
Usually, luxury designs have both new and old parts. Your bottle of biodegradable soap is probably wrong in some way, whether it's the way it's written or how it's made. You can make your eco-friendly soap boxes look and feel more antique by using a more traditional font and embossing decorative elements like crowns. You also have the option to "foil." By putting together angular or geometric shapes with a trendy sans serif typeface, you can make a look that is current and on trend.
Key Points To Know When You Make Biodegradable Soap Package
From what has been said, it is clear that switching to soap packaging that is better for the environment would be a good idea. It is good for everyone, including your company's reputation, your customers, and the environment. If you make a small change right now, it will have a big effect on how things turn out. It's a good thing to be one of the first people to follow a new rule. If you own a soap brand and are looking forward to having the best biodegradable soap packaging that is good for the environment as well, we shall only suggest Clear Path Packaging. This great packaging company is incompatible and would design the best custom printed boxes for your soaps. You visualize your soap boxes, and clear path packaging would bring your visualization to life. 
Because more and more people are looking for eco-friendly options, you have a lot of options for how people can enjoy your biodegradable soap packaging and remember your brand. Also, it's likely that they'll keep coming back to your business whenever they need soap.