Do you want to increase how many soaps you sell? Using soap packaging ideas is just one of the many smart ways to increase sales. Businesses can attract a wide range of customers by making soap boxes that stand out. So, use packaging materials well and incorporate different ways to pack them. Besides having an appealing-looking design for the packaging, the quality of the soap boxes is also very crucial. So, we are going to emphasize how you should implement soap packaging ideas while designing your soap boxes that would provide quality to the soap packaging as well.
Putting your soaps in boxes that stand out does two things, it keeps the soaps safe and gets the word out about your business. These choices in packaging are both subtle ads for the business and guarantee that the product inside stays in good shape. You can make a big impression on your customers if you use a material that keeps the goods safe and makes them look nice.
Soap Boxes Can Be Made Using The Most Advanced Ways Of Styling
It's not good for your products to just sit on a store shelf. It needs to stand out from what's already out there and look better. Even though many of them are better quality than the ones on store shelves, a lot of soap boxes are just sitting around collecting dust because no one wants to buy them. We decided to give our soap a modern and stylish look for the same reason.
Here Are Some Ways To Get More People To Buy Soap
Make the packaging design in a way that renders your product more valuable. Several elements in the environment hurt or break down soaps before they are sold to consumers. Early on, you should think about how to pack soaps well.
With the right material, the product will stay in good shape for longer and won't get damaged during shipping. When buying something, many people look for something that was made just for them. Because there are so many options, it takes a lot of trial and error to find the best material.
Among the many things that can be used to package soap are:
Cardboard, also called (or cardstock)
Kraft paper.
Box-shaped (only used for shipping purposes)
Why Is Soap Packaging A Better Choice?
By putting your soap in a unique cardboard soap box, you can ensure its quality and lifespan. Soap boxes made of Kraft can be packaged with a PVC window. The customer can look at the soap present inside the box without even opening the soap box itself. This design of the soap box really adds to the beauty of your soap. You can count on Clear Path Packaging to give you the strongest and best-looking soap boxes on the market right now.
Soap boxes can be made from a variety of things, like the PVC window cut kraft boxes that have already been talked about. There are many different ways to make soap boxes look good. After cardboard, kraft is the second most common type of packaging used to store soaps. Not only is it beautiful to look at, but it is also cheap and good for the environment.
Die-Cutting Is The Way To Go
You could also use a die cutter to cut out forms from Kraft paper or cardboard. Die-cutting will make the package look better and let the target market smell what's inside. With this variety pack, buyers can try out the smells of several different soaps before deciding which one to buy.
Here's How To Attract Potential Customers To The Soaps
The truth is that no man would buy a soap that was only for women and came in a pink box, and no woman would buy a soap that was too hard to use or looked bad. It's important that the wholesale custom soap box packaging is made for families and has information that children can use. Tear-free soaps should have a picture of a baby or another simple design on the box.
Brand Promotion Is Possible With Soap Boxes
Customers will get lost if they have to deal with too much information. They don't care about the details, like what's in the soap or what it's supposed to be used for. Make the layout and use of your product as easy as you can. All relevant information should be included on the soap packaging, but only to the point where it doesn't mess up the layout or make it hard to understand what's important.
It's helpful to give some basic information about how it's used and applied, but that's all that's needed. Your product and business would be helped by having a logo, a clear title, and more information.
Even though the packaging is just as important as the product itself, there are more reasons why you should do it. Since more people are interested in the soaps, sales will go up. Use biodegradable options for soap packaging that don't hurt the environment either. Packaging can be done in an eco-friendly way with Kraft paper.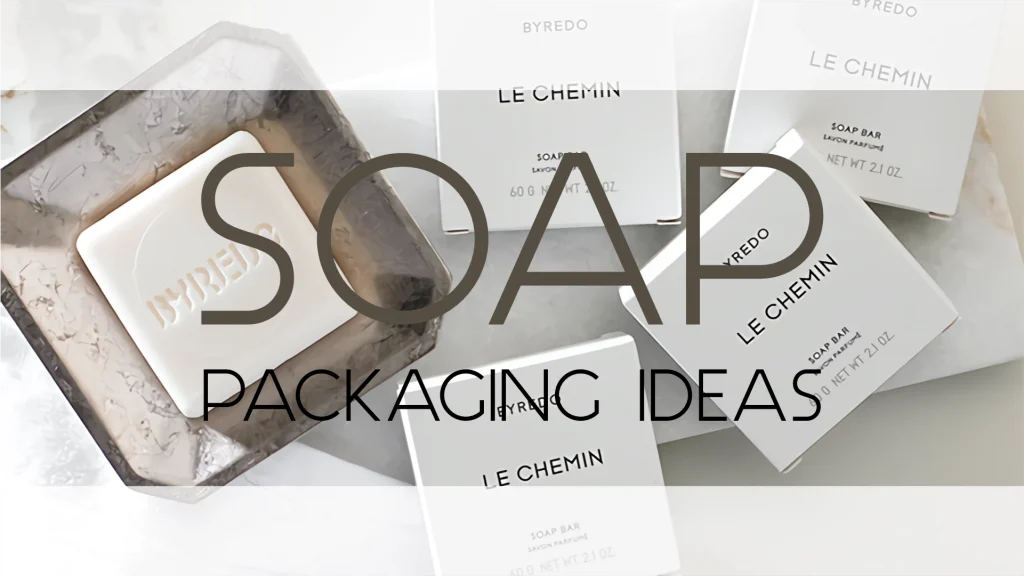 How Do You Store Soap For The Long Run?
There are many ways to package soap that you make. You can package your soap in many different ways, such as in kraft pillow boxes, muslin bags, or shrink wrap.
Your soap is great, but you can't seem to find the right way to package it? Here we are to give you a better solution. Your soap packaging boxes should be more than just a box. Instead, if the boxes are to have an effect that lasts, they need to be made with care. Do you want to get ideas? Here are some creative ways to package soap that you can look through.
Also see: Budget-oriented bath bomb packaging ideas 2022
Retail Packaging Boxes With Clear Windows
People will be able to see what's inside your soap before they buy it, thanks to these attractive boxes that have windows. When you use these boxes with bright color schemes, it will be easy to get the attention of your target audience.
Your business will also stand out because cutting-edge digital printing technology will be used to put your logo on these boxes.
Soap Boxes With Print-On-Demand
Paper is used to make these boxes so that they can hold the weight of your expensive soap. Also, the high-quality paper used in these boxes will keep people from changing the shape of the soap. These boxes have a unique look that will make your soap stand out in a sea of similar products and promote your business at the same time.
It might make sense that only the person who gets the gift should enjoy it, since it deserves extra attention. Think about putting your soaps in nice gift boxes. With the help of all the great things about gift boxes, like an unusual shape, a beautiful design, and a magical touch at the end, you can show off your soap in a way you never thought possible.
Putting your brand's soap in one of these beautiful boxes is a great way to get the word out about your business.
Design Luxurious Boxes For Your Soap Products
These are great for soaps that you make yourself. The design of this box, which is based on nature, will go perfectly with your handcrafted soap. Inside these boxes made of eco-friendly materials, your soap will look like it came from nature.
Sleeve-Shaped Soap Boxes
The unique sleeve shape is another great way to design your soap boxes. It gives the boxes a more unique look. Your customers will have a great time unwrapping their gifts because the boxes are in the shape of sleeves and have a mix of bright colors.
Custom Soap Packaging Boxes From Kraft
You should know that you can make unique boxes out of kraft paper, and these boxes will make your soaps look beautiful. You might have been looking for the perfect soap package, and this one might be it.
Customized Soap Flip Display Boxes
Your customers will be immediately interested in the fact that these boxes can be turned over, which can be used to make them look beautiful. Your customers will like how easy the flip-top boxes are to use. So, you could use this design out of the many soap packaging ideas if you want to impress your customers and leave a lasting impression.
Die-Cut Soap Boxes Will Never Go Out Of Style
Die-cut boxes are a design classic that will never go out of style. If you use die-cutting to give your custom soap boxes a unique shape, the people you want to buy them will be drawn to them. This will help your business grow.
Many business owners have come to believe that the way soap is packaged doesn't matter. So, they don't think the packaging is very important and don't care about its benefits which leads to their sales going downwards. Even though customization would need you to invest in it, it makes your products more appealing and gives you an edge over your competitors.