Candles are a warm and lovely way to illuminate a night spent with loved ones. However, candles are a staple at every celebration, whether it's a holiday or a special day like a birthday. In short, it is essential for every special occasion.
So, now we're at the stage where we can discuss how to present candles in an appealing manner for sale. Using distinctive packaging is an excellent strategy for giving your company an edge in the competitive marketplace.
Custom packaging is a way to boost your brand's fortunes no matter how you employ it. To help you differentiate yourself in the marketplace, compiled the best innovative packaging ideas from around the web. These candle box packaging ideas will likely help you build a successful business and a reputable brand.
Ten Imaginative Methods of Candle Presentation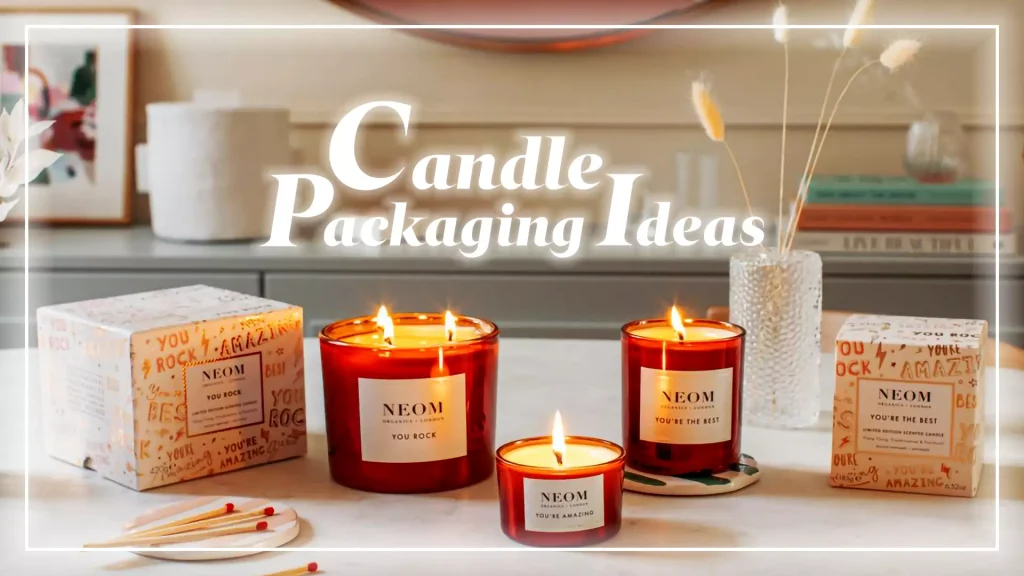 Candles are great for enhancing indoor air quality. Scented candles not only provide light but also provide a delightful mood in the home. It doesn't matter if you own a mom-and-pop store or are a wholesaler; you'll always need an edge. Custom candle boxes packaging is an ever-present necessity.
If you are a distributor or store looking to increase candle sales, this also applies to you. They need to come in stylish, individual packaging. Candles are popular because of the wide range of feelings they may elicit. If you're seeking candle packaging inspiration, go beyond these top 10 possibilities.
Candles Wrapped in Gold Foil
One of the most beautiful and luxurious candle packaging ideas is to use gold foil to encase the candles. The shiny gold foil offers a stunning look that will grab potential buyers' attention.
You may up the opulence of your candle packaging by using gold foil to design the box or label. It keeps the candle's smell within and protects it from dust and damage. This adaptable container shape may house everything from tall pillar candles to little tea lights.
One easy and efficient approach to give your candle boxes packaging a luxurious feel and make your items stand out is to wrap them with gold foil.
Candles in Personalized Packaging
If you're seeking unique candle packaging ideas, custom-printed candle packaging is a fantastic choice. They seem intriguing since they are printed with various themes, textures, and designs. Brands can personalize the packaging with their names, slogans, and logos. Candle boxes may be printed and designed in various ways to make them seem beautiful.
Candles in Folding Boxes
Tuck candle boxes are the most elegant solution for presenting candles as gifts. They're perfect for safely and attractively keeping tea lights and other tiny candles. The candles may be tidily stored away in them, where they will be protected from harm. These boxes may be printed and designed to suit your preferences.
Candles in Transparent Boxes
Candles in clear boxes, marketable packaging, and presentation that maximizes sales. The display of the goods is improved by inserting window panes of various sizes, shapes, and designs. These bespoke window displays are a great way to attract customers' attention and boost sales. In addition, they make your items more noticeable in the marketplace.
Elegant Candle Packaging
As the name suggests, luxury candle packaging should be high-end and elegant. Gold and silver foiling, as well as special coatings and lamination, may accomplish this. Spot UV, matte, and glossy lamination are available, giving boxes a different feel and aesthetic. Ribbons, inserts, and other embellishments can be added for a more finished look.
Add Hand Craft
Crafting candles at home from various cardboard, corrugated, and Kraft materials is possible. They may be made in any imaginable shade or pattern. To further improve their appearance, windows, and other accessories might be installed. Homemade candle packing boxes are more prone to breaking than their commercial counterparts, but you can get as creative as you like with them.
Two-Piece Candle Boxes
Candles may be packaged safely and attractively in two-piece candle boxes. These candle holders include a top and a container built into the box. Since their form is typically a cube, they come in various sizes. PVC windows, inserts, premium coatings, graphics, and other customization may be added to enhance their attractiveness further.
Candles in Gift Boxes
Drawer boxes, lid and base boxes, magnetic closure boxes, rigid boxes, shoulder boxes, and folding boxes are all examples of high-quality candle gift packaging. To improve their visual appeal, you might apply high-end coatings and embellishments. Spot gloss and matte coating are two of the most popular methods for presenting candles as gifts. Some ideas for glamorous gift wrapping are also at your disposal. Ribbons and other embellishments can be added to these boxes as well.
Labels on candle packaging not only look nice but also enlighten them about your products and business. White labels, transparent labels, metallic labels, matte laminated labels, soft touch laminated labels, glossy laminated labels, and many more are all great options for candle labels.
Candles in Stiff Boxes
Rigid boxes are one of the most excellent options for candle packaging. They range in thickness from 1 mm to 3 mm and are high-end and cutting-edge. They include magnetic inserts and closures specifically designed to hold and show off candles. These boxes come in various designs, from drawer-style to base-and-lid and beyond. They are simultaneously exquisite, unusual, and delicate.
Candle Holders with Flowers
When designing your candle package, remember that most of your customers will be women. As a result, you need to ensure that the candle boxes you supply will entice your target market of female consumers to purchase. To do this, you should stamp your candles with flower motifs that are both traditional and glossy to attract female customers.
Ending Lines
Candle packaging with company names, logos, and other identifying information is a powerful branding tool. The candle box packaging might have a printed logo or a hot stamp foil logo. It makes your boxes seem unique and offers your company an advantage. These boxes may help you in numerous ways, including sales and brand recognition.
At Clear Path Packaging, Customer satisfaction is our priority. We're proud to provide custom box manufacturing services, wherein your boxes will include eye-catching patterns and colors that will set you apart from the competition.