Now that Halloween is here, everyone is scrambling to find creative and unique gift boxes and other items to give to their friends and family. They go so far out of their way to impress the party guests and make sure their friends are happy with the gifts they give. So, are you also looking for something really different? If so, there are some great ways to make your Halloween treat boxes stand out and make your guests remember them. These Halloween Packaging Ideas are so great and Clear Path Packaging can help you with them if you just tell them what you need and how you want the boxes to be made.
Trick or treating is without a doubt the most well-known Halloween activity. Kids dressed up in costumes are going door to door to ask for Halloween treats. You might have decided to have a party at your house and are looking for creative ways to serve food that people will enjoy. Everyone wants their ideas for freebies to be the most creative and original ones out there. Customers try to find sweets in containers that not only protect the treats inside but also show the spirit of the event they are celebrating. Here, we'll talk about the best ways to package Halloween candy and treats.
Make this halloween your best by following our tips and tricks from this article. Everyone will be overwhelmed with the creative sweet packaging of yours. You do not have to worry anymore as these Halloween Packaging Ideas are here. Keep reading!
Pumpkin Shaped Packaging Is The Greatest
One best idea from the many Custom Halloween Boxes that we have brought for you is to make your box look like a pumpkin. The best way to package something is to make it look like a pumpkin. It will be the perfect way to show how happy the event is. Boxes can be turned into pumpkins by cutting out the shape of a pumpkin. You can also keep the candy safe by using the inserts and wrappers that come with the packaging. The last thing to do is paint the box the same color as the pumpkin. Adding a pair of googly eyes and a smile to the outside of the package could also make it look like a pumpkin. The kids will be very interested in this, and the brightly colored package should make them happy. If you want to take it a step further, you can cut out shapes from the wrapping paper and stick them on to make custom candy boxes.
Wrap Sweets In Paper Ghosts For Halloween
A creative way to give your customers candy for Halloween is to wrap it in paper ghosts. Using scissors to cut out the right shape from a box makes it easy to turn it into a light. When you're done eating the sweets, put them back in the package they came in. Now put a lid on it and wrap it in white or black paper. You can even use black markers to draw a face on the jar if you want to. This will make them look like ghosts. You can also add a handle to make it easier for the kids to carry them around. Kids will love the idea, and they will beg you for one of these bags as soon as you tell them about it.
Paper Bags Shaped Like A Bat
You can carry snacks in a paper bag in the shape of a bat. Use your scissors to cut a box into bat shapes. You could also hook the wings onto a holder. After you've shaped the bat into a bat shape, fill it with tasty treats. On Halloween, many people give out these paper bags in the shape of bats that are filled with candy or sweet tarts. You can also put candy and lollipop treats in them. Also, this is an attractive way to keep your candies in place. You can keep the candies in their bags without them losing their shape by using sticky notes, tape, or glue.
Another Great Way To Give Halloween Treats Is In Cups
You could use plastic cups and put colorful paper on the outside. One idea is to wrap the gift in orange paper to make it look like a little pumpkin. Using black and white wrapping paper is another way to make a scary atmosphere. The cups can be used to store candy. They can also be used to serve sweet treats like tarts and marshmallows. A cup of ice cream can be served with ice cream sticks that have candy on them. Also, a lot of people use stickers and pearls with shiny surfaces. These are put on the corners of the handles of the cups.
Also see: Custom Thanksgiving Boxes
Cut Any Figure Into A Glove Form For Halloween Treats
You could use a figure and cut it into the shape of a glove with scissors. You can also use rubber gloves to get a more accurate reading. Once the glove packets are made, it's time to put treats in them. The kids will love the five fingers because each one is full of a different kind of candy. This idea is expected to be one of the most popular packaging trends. You can capture the mood of the event while also showing that you have your own ideas.
Make A Coffin Shaped Goodie Box To Stand Out
Candy boxes in the shape of a coffin If you want your treat box to stand out, you could make one that looks like a coffin. When the coffin is opened, the lid will serve as the door. That is a unique idea that doesn't come up very often. The box could also be split up into many sections, each of which could hold a different kind of sweet treat. You could also decorate the box with dark colors like black and gray. You can also add scary pictures to the box, like ghosts and spider webs, to make it look more real.
The Youngsters Will Adore Witch Hat Gift Wrap
Young kids will like getting their gifts in wrapping that looks like a witch's hat. To make a hat out of Kraft paper, all you need is a little time and effort. If you want the whole thing to look more real, you can put suspenders on the hat's crown. People often use wigs and other types of fake hair to make themselves look more natural. Keep the candy on the top, and close the lid to keep moisture out. You can turn it over so that kids can get to the candy easier.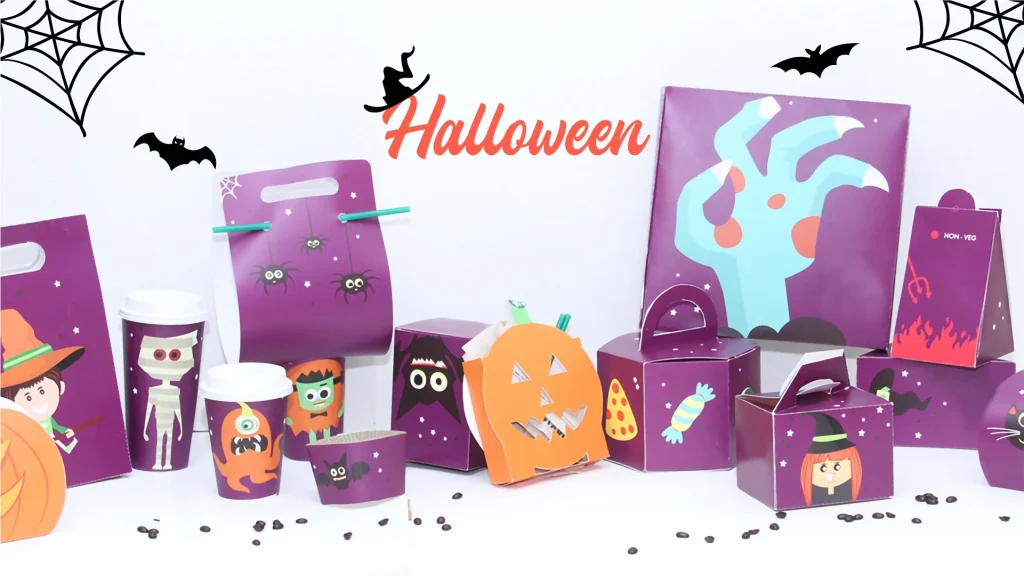 Putting Goodies In A Party Popper-Shaped Packaging
Putting the treat in a box that looks like a party popper is a great idea that will help sell the treats inside. This idea is easy enough that it could be done at home. In the middle of your paper patches and glitter, cut a vertical slit. Put them in the box of candy, and then close it. You can use the patches that have skulls and vampires on them. When the kids open up the candy, there will be bits of glittery paper all over it. That's a great idea for food for Halloween, too.
Around this time every year, people start looking for ideas for how to package Halloween treats. When the children come to get their treats, they want to surprise them. This year, if you want your Halloween treats to stand out, you can choose from many different ways to package them. If you want, you can put the treats in a bag in the shape of a bat. Gloves come in iconic packaging that captures the spirit of the season very well.
Biodegradable Packaging For The Sweets You Make At Home
Don't buy any of the store's sweets. We know that it doesn't help your health in any way. Instead, it's full of chemicals and sugars that are bad for you. It also makes a lot of trash, such as a big plastic bag full of individually wrapped candies.
If you make your own Halloween treats, you'll spend less money, use less packaging, and give your party a more personal touch. So, when you make your own candy you will have to design its packaging yourself as well. Clear Path Packaging is the one and only packaging company that you should trust. If you are looking out for a packaging company that is thoughtful of the environment, you should choose CPP only.
On Halloween, it is okay to wear a costume. On Halloween, it's okay to use magic to get what we want, which tells us even more about ourselves. Today is a great day to meet your neighbors, whether or not you dress up as the devil.