It's finally Christmas time. At this time of year, people start buying presents for friends and family members, and jingle bells begin to ring. Don't stress yourself if you can't think of any good Christmas gift ideas! The most thoughtful Christmas gift boxes ideas are here, and we've got you covered. We have something suitable for everyone on your list, starting with gourmet food hampers and ending with pamper boxes. Don't worry about the hassle of Christmas shopping this year because we'll take care of it for you.
Exceptional Christmas gift boxes ideas
During the Christmas season, it's important to let those you care about know how much you appreciate them. One method to accomplish this is to send them Christmas gift boxes. You can stock them with all of the items that they treasure the most. To get you started, here are some ideas to consider:
Fill a box with gourmet delicacies such as artisan cheese, smoked meats, and premium wines. Give it to the person in your life who has a passion for food. If they have a craving for sweets, then you should offer them chocolate truffles, candied fruit, and biscuits. Putting together a gift box full of designer clothes, accessories, and beauty goods is the perfect present for fashionistas. They will like being showered with luxurious goods that are crafted by some of their favorite companies.
An assortment of technological devices and accompanying accessories will satisfy the needs of the tech enthusiast well. Include things like headphones with noise cancellation, a portable charger, and a smartwatch in your gift box. There are likely to be some Christmas gift box suggestions that will suit them. It is regardless of what their interests may be, as long as your effort is hard enough. Therefore, use your imagination to come up with thoughtful ways to show your loved ones how much you care about them this holiday season.
How can custom packaging make your gift stand out?
Think about getting someone special in your life a present that is one of a kind. It will stick in their mind by getting them personalized packaging. Any Christmas gift box and Custom Seasonal Gift Boxes can be set apart from the competition with the use of specialized packaging. To get you thinking, here are some suggestions to get you going:
When it comes to bespoke packaging, it's important to go outside of the standard rectangular box. You can make use of non-standard forms and dimensions. You could want to think about choosing unusual forms and sizes that are more fitting for the gift box's contents. If you want to give someone a Christmas gift box with a baking theme, for instance, you could seek a shaped box in the form of a gingerbread home.
Add some personalization:
By adding some personalization to the custom packaging for your gift box, you can make it even more appealing. This could include the name of the recipient, a personal note, or even a picture. You can also include some thematic details of winter and Santa on the boxes. This will make it look exclusive about Christmas.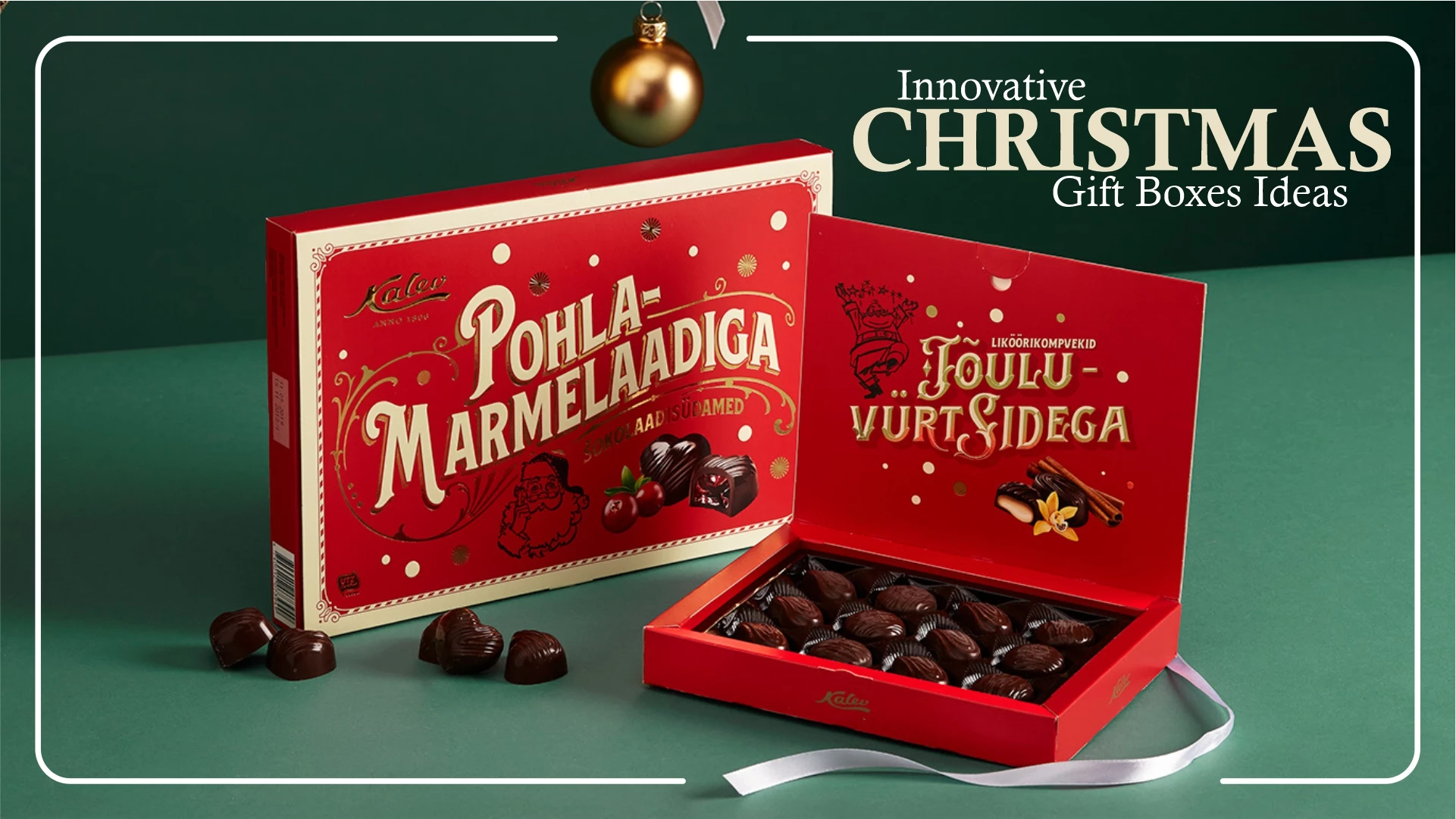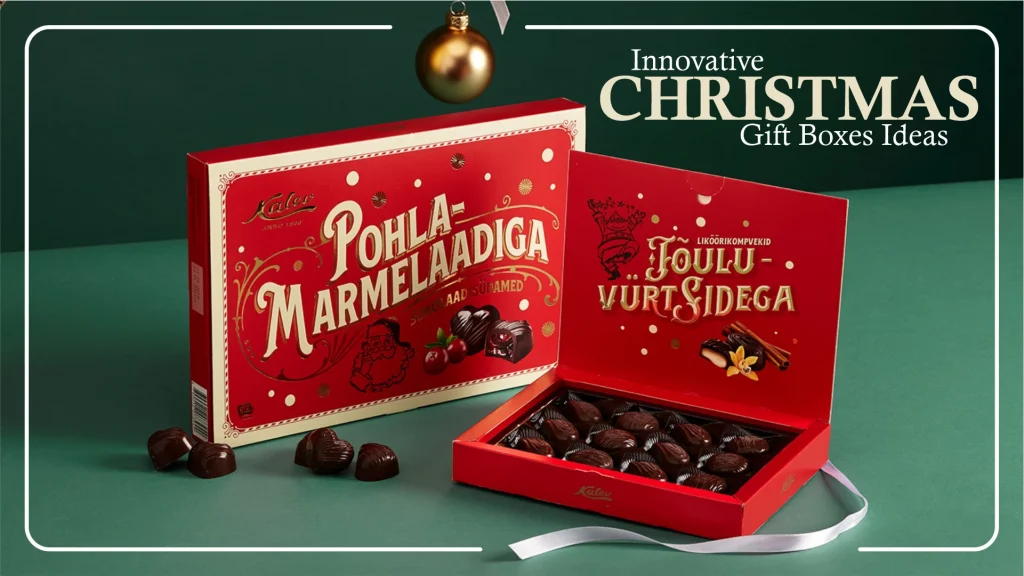 Get creative with colors and patterns:
Choose colors and patterns that reflect the theme of your Christmas gift boxes or the personality of the receiving person. Get creative with colors and patterns. If you are gifting someone a box with a beach theme, you should choose colors that are bright and sunny. Or, if you are gifting a box to someone who has a strong interest in fashion, select prints that are both sophisticated and stylish.
Only use high-quality materials
When it comes to bespoke packing, you shouldn't sacrifice quality. Therefore, make sure you choose materials of good quality. Pick wrapping materials that will keep your presents safe while also enhancing their appearance. For instance, you can gift them breakable things such as glassware or delicate electronic equipment. Hence, you should select boxes that are durable and have a lot of padding.
Christmas boxes with windows
When you attach windows to Christmas boxes, your customers will be able to see what you have to offer. They can see exactly what's inside the boxes without even opening them. This suggests that a boost in product exposure could result in more purchases. Therefore, functional packaging can look great and do an amazing job of showcasing your products. Therefore, it may also serve to increase the safety of your belongings.
Use different finishes to give your theme a unique look
Keep in mind, when you customize the boxes, that only unique boxes may fulfill your requirements. On the occasion of Christmas, you can design your own boxes with unique ideas. In today's market, if you want your products to be seen, you need to give some thought to branded packaging. It's possible that you can make visually arresting and impressive characteristics relating to Christmas. As a result, you have to make use of a variety of finishes. There is a possibility that they will have a matte or glossy coating. The application of these coatings will lend an elegant look and texture to the boxes.
You may consider utilizing gold, silver, or copper foiling in your project. They are able to provide a hand in lending your packaging a shiny sheen. Embossing is yet another wonderful technique that can be utilized to improve the visual appeal of this packaging. It is possible to emboss the company name, the corporate logo, or graphics that are relevant to the goods. Consequently, by utilizing these strategies, you will be able to create branded boxes for Christmas.
Making Christmas colors and shapes prominent
When it comes to the customization of your gifts on Christmas, you really must have an understanding of the significance of colors. Different tones may have dissimilar effects on one's psyche. Therefore, when choosing colors, you should take into consideration the demographics and psychographics of your audience. You need to do research to determine whether or not the use of these color combinations can raise sales. When choosing colors that are appealing, be sure that there is a clear separation between the color of the box and the color of the type. In addition, you might want to consider implementing Christmas colors on your gifts. Therefore, consumers won't have any trouble locating your products in stores where they shop. Using colors that are appealing might raise the value of your packaging and attract new customers.
Christmas gift boxes for mum
If you're looking for the ideal present to give your mother for Christmas, you can't go wrong with a box that contains all of her most treasured possessions. Here are the most thoughtful and luxurious Christmas gift boxes. You may give them to your mother to make this year's holiday season even more memorable:
A box loaded with all of her preferred foods and beverages is a good choice for Christmas gifts. During the holiday season, Mom will be overjoyed to learn that she can partake in some of her most-loved sweets. You can also use a luxurious box filled with items for self-care and relaxation. Assist your mother in winding down and relaxing with a lovely collection of bath and body goods.
You can utilize a box stuffed with merry decorations for the home. This thoughtful present will delight mom as she decorates her house for the holiday season. It includes everything from fragrant candles to lovely decorations. You can also use a box stuffed with holiday movies and reading material. This warm and fuzzy present will be much appreciated by mom whether she is relaxing on the couch or taking a break from the craziness that is Christmas. You can personalize Christmas gift boxes to the fullest extent possible. There are many things that you may add to this Christmas hamper to make it more memorable for mom. This may include photo frames and key chains.
Conclusion
Personalization of a product packaging can boost both the marketability of its wares and their overall success in the marketplace. Each and every business places a significant amount of importance on the creation of one-of-a-kind boxes for the products that they offer in order to maximize customer satisfaction. We have covered a lot of ground in terms of the incredible Christmas gift boxes. You won't have any trouble putting these strategies into effect. As a result, you'll have a much easier time differentiating your products from those of your rivals and increasing the amount of money you get in from the sale of those goods.