Customers only buy the most attractive product, so branding is more important. In the digital world, you will find different soap packaging ideas that save you time and money. Also, it provides brief benefits for business purposes.
Soap is a beauty item that seems necessary for every single user. In this regard, you must acquire amazing designs that match your needs. Something that boosts emotions or convinces customers to choose their product.
Small enterprises that make and sell soaps rely on soap packaging for several reasons. For the following reasons, soap packaging is crucial:
Packaging Provides Complete Protection:
Soap packaging serves as a protective layer for the product. It helps to prevent damage during transportation and storage, keeping the soap safe and intact until it reaches the customer.
Makes Your Branding Rock: 
Packaging for soap is an excellent tool for branding. It helps create a visual identity for your brand and differentiate your product from competitors. The packaging should reflect the brand's values, quality, and uniqueness.
Provide Complete Information: 
Soap packaging boxes provide essential information to customers, including the ingredients, product features, and usage instructions. This information is essential for customers to make informed purchasing decisions and to use the product correctly.
Enhance Convenience level: 
Soap packaging adds convenience for customers. It makes it easy for customers to store and transport the soap and helps maintain its quality and freshness over time.
Soap packaging is vital for soap-related small enterprises. It ensures safety, visibility, knowledge, ease of use, and conformity to rules and regulations. Investing in high-quality soap packaging may boost a company's brand recognition and consumer satisfaction, raising sales and opening up new market prospects.
10 Soap Packaging Ideas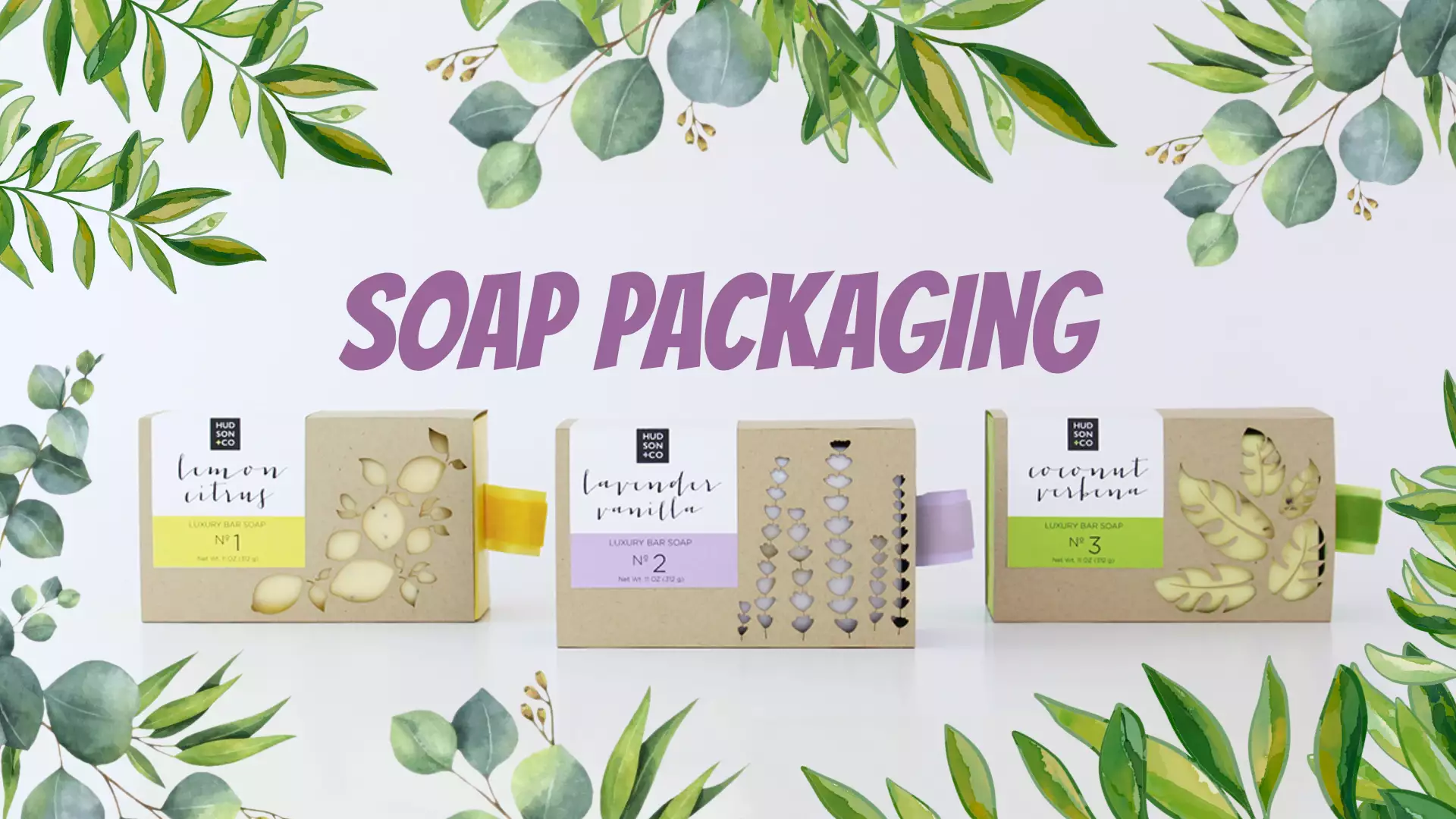 Compared to liquid soap, the environmental effect of soap bars is far lower. Shouldn't eco-friendly packaging be used while manufacturing eco-friendly packages? At Clear Path Packaging, you will easily find eco-friendly soap packaging that not only protects you but also boost your business branding.
You will provide complete environmental protection without sacrificing your convenience when you apply these simple soap packaging ideas:
1. Robust and Sturdy Custom Soap Boxes
There are many factors to consider the sturdy and robust soap boxes, such as they are eco-friendly and strong enough. To begin, businesses may get soap packaging that delivers their company's actual reasons. You can easily pack your soap into sturdy and robust packaging in different forms and sizes. For instance, you can choose cardboard material for soap packaging.
2. Leftover Gift Wrap
You can make unique and stylish soap packaging that is easily reusable. Well, the best part is, you can easily find the leftover gift waring into your home and use it to add a more realistic appearance.
3. Use of Kraft Paper
Soap manufacturers prefer to use Kraft paper for soap packaging. One advantage is that customers may see the soap in person before deciding whether or not to buy it. And it's a great way to package soap that doesn't harm the environment. You can bring any style by using kraft paper into soap packaging.
4. Use Images of Famous Celebrities
Think about it: a famous movie star or runway model lounges on your soap box. Don't you think more people would buy a product if they saw it was sponsored by a public figure they respected?
The corporation was promoting the launch of a limited-edition product range. That's why it's essential to use a prominent model or celebrity face to add some attraction to the packaging.
5. Add a Natural, Handmade Look to Organic Bar Soap
Homemade soap firms on a smaller scale must find a way to stand out from the sea of mass-produced commercial soaps. Organic soap businesses may benefit significantly from rustic packaging since it allows them to stand out while keeping costs down.
It's good for the environment and may offer your business an edge. Furthermore, with this sort of packaging, you may give your product a more organic feel.
6. Put Labels on the Soap Boxes
Getting people interested in soap is not always easy, but innovative packaging may make a big difference. Adding labels to your soap container is a great marketing move. Having your label on the same surface as the product may not seem like a huge deal, but it helps people remember your brand the next time they need a quick shower.
7. Adorn with Ribbon
Ribbons are a simple way to differentiate your soap's packaging from the competition. Tying a ribbon around the top might make your soap container seem more polished.
8. Use Cane Baskets to Display Your Soap
Soap in a cane basket has a rustic charm, making it a terrific present. They're cheap, so you may use a high-quality basket that lasts longer than similar choices that can cost more money, and you still get a lot for your money. You may make the basket look fancier by tying a ribbon around it.
9. Decorate the Boxes with Leaves and Flowers
Soap packaging should be designed to encourage people to purchase the product. Including natural elements like leaves and flowers in the package is one such feature. Most individuals are drawn to leaves and flowers because of the intense sensory experience they deliver.
10. Redecor and Recycle Soap Packaging
While typical corrugated boxes aren't the most distinctive, many solutions are recyclable and even biodegradable! If you purchase them at scale, just print your brand's logo and other pictures.
When Soap Packaging Runs Out, What Will Happen?
While the product is the star, you should not overlook the importance of getting the details. There are drawbacks for both the company and the client when soap items are not packed. Some problems that may emerge from the sale of unpackaged soap include the following:
Soap items are easily damaged during shipping and handling if they aren't properly packed. Soap bars may break or become misshapen, diminishing their value and perhaps turning off potential buyers.
Buyers may miss crucial product details like ingredients, directions for use, and health and safety warnings if soap is supplied without packaging. This raises the risk of misunderstanding, improper usage, and even injury.
Inconsistent branding may be seen in the company's lack of attention to detail in its packaging. This might make it tough to differentiate the product from the competition and win over repeat buyers.
Hygiene is an issue since unpackaged soap is susceptible to contamination from dirt and dust. This might make the product less sanitary and less enticing to buyers.
Ending lines:
If you want to start a soap business, you'll need some soap packaging ideas. Soap packaging that stands out from the crowd is crucial for increasing sales and establishing trustworthiness. Businesses should spend money on high-quality custom soap packaging to build a positive reputation for the brand.
If you're searching for the best place where you buy Soap packaging boxes at wholesale price, then Clear Path Packaging is your one-stop solution for your needs.